Camelback High School

Let Hello Fellow Spartans!!!
50th High School Reunion on Oct. 25th - 26th, 2019
Fellow '69 Spartans:
A good time was had by all! We were thrilled with the turnout! It was so great to see everyone!!!
We will continue to leave the webpage up until the end of December. Now is the time to contact people you would like to stay in touch with. We cannot give out personal information due to privacy issues, but you can contact people on their profile page and request their email address, or phone number, if you want to stay in touch.
*We will soon have the link posted for you to see photos from the Photo Booth, and the Group Photo of the entire class.
To help build memories of this great weekend, we invite you to "shoot 'n share" your photos of all of the events. We are hosting a shared Gallery for you to upload photos at any time during the weekend or after you get home. Click on this link: https://dropevent.com/gallery/chs6950 . It's easy! NO special app or account log-in needed. Only a web browser. Just click, upload and go! You are free to sort your photos into the provided folders or, we'll do it for you. All we need is your photos, so shoot away!
Thank You's in Order: I personally want to thank our amazing Reunion Committee members for working together since last February to make this thing happen. We came together as strangers, from being kids who randomly ended up in the same place 50 years ago. We have all become good friends during this process, and I personally want to thank all of them for their hard work and commitment this past nine months:
Connie (Bell) Kamm–Our Fabulous Facilitator, Hulen Fund; Steve Dreiseszun-Hilton Coordinator and Slide Show Producer; Barb (Hagan) Hogan-Webpage; Sue Humphrey- Facebook, Recruiter of the Universe to find classmates, and Email Blaster; Linda (Kushibab) Kirby- Decorations, Posters, Banners, and Slide Show Partner with Steve; Sue (Wiley) Hawkins – Name Tags, Memory Tree, Assistant Treasurer, and Decorations; Jody Pastorini - Flowers (huge!!!!), Decorations, and Fun Infuser; Stalker Reed - Treasurer Extraordinaire, Hulen Fund; and…Ron Cordova, who has done all of the planning for the Fiesta, which he will host at his home. It has been my greatest pleasure to work with all of you these past nine months! We did it! 🙌🏼 Barb (Hagan) Hogan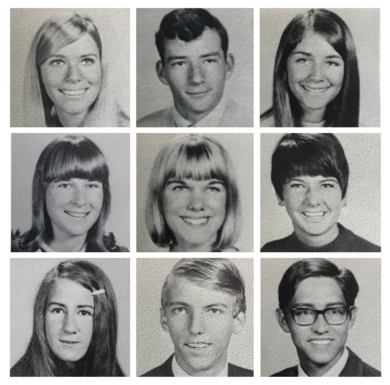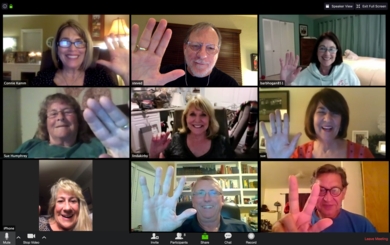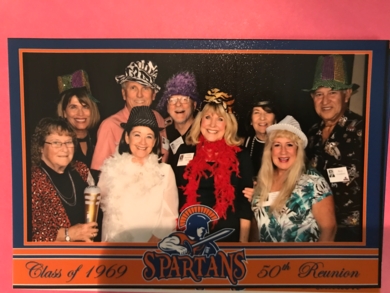 Donations to CHS: Once again, we want to sincerely thank all of you who have donated to our Assistance Fund in your registrations and at our events. As it turns out, ALL of your assist donations, plus $384 from registrations, went to the Hulen Memorial Scholarship Fund ($3,220) to help the extreme needs of CHS graduates. If you would like a receipt for your donations please email our treasurer, Stalker Reed at reedgs@gmail.com. Also, please consider donating to this very worthy cause. Take a minute to read about Tom Hulen, a beloved CHS teacher and his engagement with his impoverished students: Hulen Memorial Scholarship Fund.
Our Reunion Event was held at the:
Hilton Scottsdale Resort & Villas - 6333 North Scottsdale Road, Scottsdale, AZ 85250
Hilton Scottsdale Resort & Villas
Decades of Reflections written by Steve Bush: Decades of Reflection.
Memory Page: Sadly, we have lost some dear friends along the way. We would like to honor their memory. Please see the Memory Page. If you know of friends who have passed, and their names are not on the Memory Page list, please let us know. If you have the obituary link for someone, please send it to us and we will add that to the Memory Page as well. There is also an option for anyone who would like to write a passage about a friend we have lost. Several people have left comments, and it is heart-warming to read them.
Photo Gallery: If you haven't already checked out the Photo Gallery (left toolbar), take a litte trip down memory lane, listen to the 1960's playlist, and enjoy revisiting our 1969 Shield.
1969 History/Videos: Please check out the new link called 1969 History/Videos. Lots of fun stuff! Reclick on video box to see the next one. Hope you enjoy!
Webpage link: Camelbackhs1969.