Camelback High School

Hello Fellow Spartans!!!
Happy 68th birthday to all of you Baby Boomers born in August!
Please join us for our 50th High School Reunion on Oct. 25th-26th! We want YOU there!!!
92 people are currently attending. 120 have filled out their profiles. For those of you who have filled out your profile, but have not registered yet, now is the time!
Monthly Update: Each month we are revisiting the year 1969. In May we listed some world events, June we featured television, and July we featured popular movies. This month we are featuring a sample of fashion, but mostly music. Jerry Burghout is our Cover Boy for August. Here's a picture of Jerry in Amsterdam, circa 1969-70, rockin' the turtleneck and those striped pants! Lookin'good, Jerry!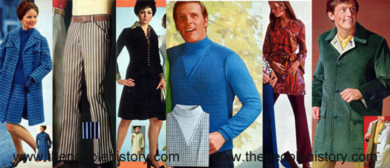 Music of the 60's: The genres ranged from early rock and roll (Elvis, Buddy Holly, Chubby Checkers, etc.), to folk, Motown, hard rock, classic rock, psychedelic rock, blues, solo artists, crooners, bossa nova, jazz, country, and on and on. There are easily over 200 bands/singers who had at least one hit that all of you would remember. Most of them had multiple hits/albums; and that didn't even include the 200+ songs written by The Beatles!
The best option for the overwhelming task of creating a playlist for the webpage was to defer to a Spotify Playlist of songs from 1965-1969. We invite you to take a deep dive into the music, and enjoy the memories it conjures up for you. It's guaranteed to put you in a good mood! If you don't have the Spotify App, sign up for the free trial, and hopefully you'll be able to listen during your trial period. You will find the Playlist by clicking on the Photo Gallery link on the left side of the Homepage, then clicking on The Shield. There is more information on Significant Live Music Events from 1969 posted at the end of this update, as well as a list of just a "few" of the bands/solo artists during our high school years.
Favor: Please think of a couple of music trivia questions (or other trivia) for the big night and send them to Reunion Committee at Camelbackhs1969@gmail.com Your help and participation are much appreciated!
Decades of Reflections and Life Left to be Lived by Steve Bush: Steve Bush has written a synopsis of the decades of our lives. I encourage you to set aside a little time, and read this. If you are hesitating about attending, or thinking you don't have much in common with high school friends from 50 years ago; this read may help you realize that our entire lifetime has been "in common". Thanks Steve! Here is the link: Decades of Reflection.
Child in car safety reminder by Scott McDonald. Thank you Scott!
https://www.youtube.com/watch?v=UrrhN0OhSQo&feature=youtu.be
OK folks, it's August! We hope you've all had a wonderful summer! October is on the horizon now! For those of you who don't live in Phoenix anymore, it's time to get your plane and hotel reservations so you can get the best deals. Our October calendars are in full view now, and Fall dates are starting to fill up. Please don't postpone any longer. Take advantage of the Summer Rates, which end on August 31st.
Do not:
Let the cost stop you from coming. Contact Stalker (see below) if you need help. It is 100% confidential. Many have contributed to the Assistance Fund to ensure you come!
Although there are a few of us still running marathons, many of us have a few extra pounds of knowledge we've acquired over the years that manifested in our waistlines instead of our brains. Don't worry about it. Nobody cares.
Wrinkles, grey hair, no hair, hair growing in the wrong places, bla, bla, bla…. It doesn't matter. We're all in the same boat. Carpe Diem!
Fill out your Profile Today: If you haven't already done so, you will find your name in the Missing Classmates list. It only takes a few minutes to fill out your profile. However, at this point we hope you go directly to registration after completing your profile. Thanks! 🙌🏼 🙌🏻🙌🏽.
Locate Classmates: Please continue to help us reach out to friends through our webpage, Facebook, Classmates.com, email, phone calls, snail mail, birthday cards, and whatever else you can think of! There are still a lot of classmates we have not located yet. Thanks for your help!
Registration: The Registration Tab is on the left toolbar. There are two price options for the Main Event Registration.
If you are paying by check the current price is $115. Please select the first Main Event option in Registration.
If you prefer to pay with a credit card, there is a bank charge of 6%. Please select the second Main Event option (for $122 pp). Summer registration ends August 31st.
Thousands of dollars in deposits have been paid to secure the DJ and this beautiful venue during peak season in Phoenix. Please help us reach our goal of at least 100 registrations!
Registration Price Includes:
Friday Welcome Mixer (You must be registered for Saturday night): Starts at 7:30 pm. Say hello to old friends by the pool at the Hilton. No Host Bar.
Saturday Night Main Event: 6:00-11:00 pm. This will include dinner, a DJ, dancing, a photographer, a photo stage, and a no host bar. Both events will be at the:
Hilton Scottsdale Resort & Villas - 6333 North Scottsdale Road, Scottsdale, AZ 85250
Hilton Scottsdale Resort & Villas
For Call-in Reservations: 1-800-498-7396 / Ref code "CHS".
Friday Mixer: Just to clarify, the Friday night Poolside Mixer is a combined event with the Saturday night dinner and dancing. We must pay the Hilton for both nights, so we appreciate your understanding. You must be registered for Saturday to attend Friday.
Friday Fiesta: 4:30-7:00: (Before Mixer at the Hilton): Ron and Heidi Cordova are opening their home for a "pre mixer". There will be catered Mexican food, cervezas, back yard games, and 60's music. $20 pp. Their address is: 1318 W. Georgia Ave., Phoenix, AZ 85016.
Hotel: The Hilton has agreed to a discounted rate of $169 (plus taxes and resort fees) until the hotel is nearly full, or September 26th, whichever comes first. Tell them you are with the Camelback High School Class of 1969 to get this rate. This is peak season for events in Phoenix, so the sooner you reserve your room, the better.
Need Assistance? We do not want costs to prevent ANY classmate from attending! If you need assistance, contact Stalker Reed 404.519.9169 for more information. Assistance will be strictly confidential.
Give Assistance? Donations Tab. Our sincere thanks to all of you who have donated to our Assistance Fund so far! If you would like to contribute, you will see an option to contribute during Registration; or, you can click on the Donations Tab on the left toolbar. Suggested amounts are listed; however, you may donate any amount you wish. Thanks for your kindness and generosity.
If you want your gift to go to a certain classmate, please email Stalker Reed: reedgs@gmail.com. After the reunion, all unused money from our general account and the assistance fund will be donated to the McKinny Kids at CHS – (homeless kids needing help with books and clothes).
Survey Page: (For planning purposes): Please fill out the quick Survey. We promise, this one will be quick!
--If you are interested in going to the shooting range, contact Ron Cordova at 602-277-0739
--If you are interested in taking a tour of CHS, text Scott McDonald at: 602-466-8521
--If you are interesed in golf, and want to be the organizer, let us know.
Memory Page: Sadly, we have lost some dear friends along the way. We would like to honor their memory. Please see the Memory Page. If you know of friends who have passed, and their names are not on the Memory Page list, please let us know. If you have the obituary link for someone, please send it to us and we will add that to the Memory Page as well. There is also an option for anyone who would like to write a passage about a friend we have lost. Several people have left comments, and it is heart-warming to read them.
Updates: We will continue to send monthly updates! You can follow us on Facebook at Camelback High Class of 1969 50th Reunion; or access this webpage anytime at: Camelbackhs1969.
We are looking forward to seeing everyone in October!
HAVE A GREAT SUMMER!
The 1969 Fifty Year Reunion Team
P.S. Please add some of your favorite high school photos to the gallery called "Community Gallery". If you have any questions on how to do it, please contact us at camelbackhs1969@gmail.com.
More Music Trivia: Significant Live Music Events in 1969
Woodstock attracts more than 350,000 rock-n-roll fans, Atlanta International Pop Festival on 4th July attracts 100,000 fans, Isle of Wight Festival attracted an audience of approximately 150,000
1. January 30th: The Beatles, with Billy Preston, gave their final live performance on the roof of the Apple building in London, England, the live performance was an impromptu event that ran for 42 minutes featuring Get Back, I Want You (She's So Heavy), Don't Let Me Down, I've Got A Feeling, One After 909, Danny Boy, Dig A Pony, God Save The Queen and A Pretty Girl Is Like A Melody later featured as the climax of their Let It Be film
2. March 25th to March 31st: Following The Marriage of John Lennon and Yoko Ono on March 20th in Gibralta they hold a week-long Bed-In for Peace at the Amsterdam Hilton Hotel inviting the world's press into their hotel room every day between 9 a.m. and 9 p.m
3. July 4th: Atlanta International Pop Festival attracted an audience of approximately 100,000 to watch 16 performers including Janis Joplin, Johnny Rivers, Blood, Sweat & Tears, Canned Heat, Joe Cocker, Creedence Clearwater Revival, Sweetwater and Led Zeppelin
4. August 15th to 18th: The Woodstock Festival attracted an audience of approximately 500,000 to watch 35 performers including Ravi Shankar, Joan Baez, Santana, Grateful Dead, Creedence Clearwater Revival, Janis Joplin with The Kozmic Blues Band, Sly & the Family Stone, The Who, Jefferson Airplane, Joe Cocker, The Band, Blood, Sweat & Tears, Crosby, Stills, Nash & Young and Jimi Hendrix at White Lake, New York, U.S.A.
5. August 30th-31st: Isle of Wight Festival attracted an audience of approximately 150,000 to watch 26 performers including Bob Dylan, The Who, Blonde On Blonde, Joe Cocker, The Moody Blues and Free at Wootton, Isle Of Wight, England
6. September 13th: Toronto Rock and Roll Revival attracted an audience of approximately 20,000 to watch 20 performers including Chicago, Alice Cooper, Chuck Berry, Jerry Lee Lewis, Gene Vincent, Little Richard, Doug Kershaw and The Doors, Screaming Lord Sutch and John Lennon, Yoko Ono and The Plastic Ono Band at at Varsity Stadium, of the University of Toronto, Ontario, Canada
7. December 6th: Altamont Speedway Free Festival attracted an audience of approximately 300,000 to watch 10 performers including The Rolling Stones, Santana, Jefferson Airplane, The Flying Burrito Brothers, and Crosby, Stills, Nash & Young at Altamont Speedway, California, U.S.A. The concert is best known for having been marred by considerable violence caused by alcohol and drugs including by the Hells Angels motorcycle club who were used for security round the stage.
Here are just a few of the singers/bands from the 60's in alphabetical order….
ABBA
Alice Cooper
Archie Bell and the Drells
Aretha Franklin
Arlo Guthrie
B.B. King
Badfinger
Barbra Streisand
Barry McGuire
Beach Boys
Beatles
Bee Gees
Ben E. King
Big Brother and the Holding Company
Bill Haley & His Comets
Blood, Sweat & Tears
Bob Dylan
Bobby Rydell
Bobby Vinton
Booker T. & the M.G.'s
Brenda Lee
Buddy Holly
Buffalo Springfield
Buffy Sainte-Marie
Canned Heat
Carol King
Chad & Jeremy
Charlie Drake
Chicago (Transit Authroity)
Chubby Checker
Chuck Berry
Cilla Black
Classics IV
Cliff Richard
Connie Francis
Country Joe and the Fish
Cream
Creedence Clearwater Revival
Crosby, Stills, Nash & Young
Dave Clark Five
David Bowie
David Gilmour
Deep Purple
Diana Ross & the Supremes
Dion
Dionne Warwick
Donovan
Dusty Springfield
Elvis
Engelbert Humperdinck
Eric Burdon & the Animals
Eric Clapton
Etta James
Fats Domino
Four Tops
Frank Sinatra
Frank Zappa
Frankie Avlon
Frankie Vaughan
Freddie and the Dreamers
Fruitgum Company, 1910
Garry Puckett & the Union Gap
Gary Lewis & the Playboys
Gene Pitney
Gerry & the Pacemakers
Gladys Knight & the Pips
Glen Campbell
Gordon Lightfoot
Grateful Dead
Harry Nilsson
Herman's Hermits
Ian & Sylvia
Iron Butterfly
Jacki DeShannon
James Brown
Jan and Dean
Janis Ian
Janis Joplin
Jay & the Americans
Jefferson Airplane
Jethro Tull
Jimi Hendrix
Jimmy Cliff
Joan Baez
Joe Cocker
John Sebastian
Johnny and the Hurricanes
Johnny Cash
Johnny Rivers
Jose Feliciano
Jr. Walker & the All Stars
Judy Collins
Led Zeppelin
Lee Dorsey
Leonard Cohen
Lesley Gore
Los Bravos
Lulu
Manfred Mann
Marianne Faithfull
Mark Lindsay
Martha and the Vandellas
Marvin Gaye
Mary Wells
MC5
Melanie
Michael Jackson
Muddy Waters
Nancy Sinatra
Neil Diamond
Neil Sedaka
Ohio Express
Otis Redding
Pat Boone
Patsy Cline
Paul Revere & the Raiders
Percy Sledge
Pete Seeger
Peter and Gordon
Peter, Paul and Mary
Petula Clark
Pink Floyd
Ray Charles
Richie Havens
Ricky Nelson
Robert Parker
Rod Stewart
Roger Miller
Roger Waters
Roy Orbison
Sam & Dave
Sam Cooke
Sandie Shaw
Santana
Sergio Mendes & Brasil '66
Shocking Blue
Simon & Garfunkel
Sly & the Family Stone
Smokey Robinson and the Miracles
Sonny & Cher
Spanky and Our Gang
Steppenwolf
Stevie Wonder
Stones
Syd Barrett
Taj Mahal
The 5thDimension
The Association
The Band
The Big Bopper
The Buckinghams
The Cascades
The Carpenters
The Chambers Brothers
The Chiffons
The Cowsills
The Crystals
The Cyrkles
The Dells
The Doors
The Drifters
The Electric Prunes
The Foundayshuns
The Four Seasons
The Golden Earring
The Grass Roots
The Guess Who
The Hollies
The Honeycombs
The Impressions
The Isley Brothers
The Jackson 5
The Kingsmen
The Kingston Trio
The Kinks
The Lovin'Spoonful
The Mamas & the Papas
The Merseybeats
The Mindbenders
The Monkees
The Moody Blues
The Mothers of Invention
The Move
The Rascals
The Righteous Brothers
The Searchers
The Seeds
The Seekers
The Shangri-Las
The Shirelles
The Sonics
The Standells
The Supremes
The Swinging Blue Jeans
The Temptations
The Tornados
The Tremeloes
The Troggs
The Turtles
The Velvet Underground
The Ventures
The Vogues
The We Five
The Who
The Yardbirds
The Youngbloods
The Zombies
Them
Three Dog Night
Tina Turner
Tom Jones
Tommy James & the Shondells
Tommy Roe
Trini Lopez
Van Morrison
Vanilla Fudge
Wilson Pickett